New touch controllers support mixed inputs simultaneously
GSR Technology is pleased to announce the new series of EXC80H/EXC82H/EXC84H projected capacitive touch control boards from EETI eGalax- (eMPIA Technology Inc.). Integrating the functions of self and mutual capacitance sensing technology, built-in high driving voltage transceiver and a powerful MCU, this controller incorporates most desired features to boost the noise immunity, and supports high demand applications in most categories. All control boards come with USB, UART and I2C interface, to support various operation systems and CPU types.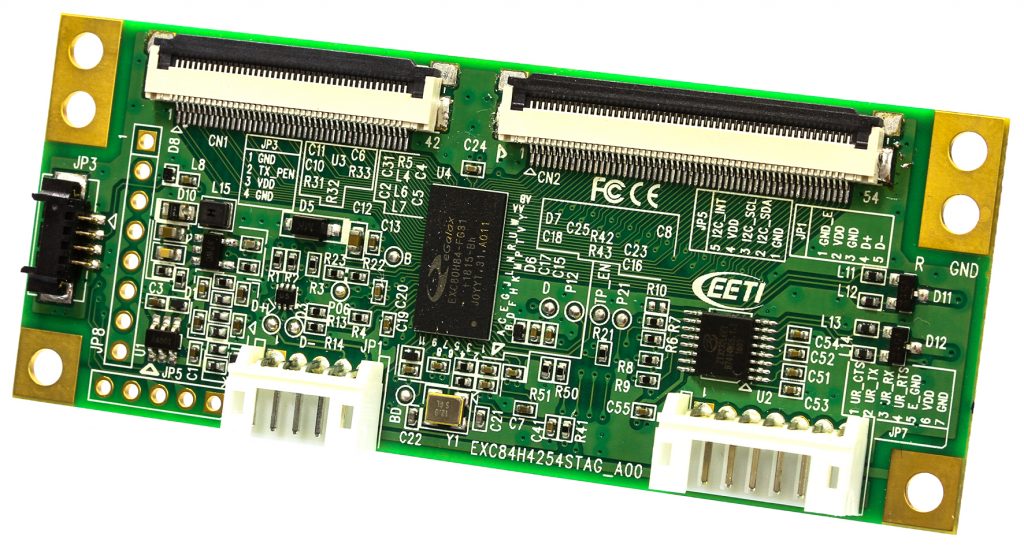 The EXC80H family controllers support most touch sensor structures from the market, including Single Side ITO (SITO), Double Side ITO(DITO), Glass/Film, Glass/Film/Film and Glass/Glass. Apart from fulfilling general aspect of industrial requirements, the new series supports the most renovated mixed input feature that enable multiple finger and multiple EETI active pen to input simultaneously; the EXC80H/EXC82H series further cooperate with the 2nd generation TouchManager auto tuner tool, offers more adjustability and reliability to simplify creating new firmware settings within few steps.
The EXC80H series PCAP touch controller IC combines all key features from its preceding series and evolved into a compact SOC. With an enhanced signal-to-noise ratio, the EXC80H raise the EMC immunity test spec to CS 10Vrms and RS 50v/m. The increased memory size benefits more software features in one package, including USB/UART/I2C combo interface ready, supporting multiple virtual keys (max. 48 keys) on a regular sensor, EETI B/T/E/M type active stylus, and eGalax TouchManager auto tuner.
Although the EXC80H series is aim for robust applications for industrial and commercial fields, the EXC80H46 / EXC80H60 / EXC80H83 / EXC80H84 / EXC86H82 / EXC86H128 support Microsoft's pen protocol (MPP), which will seamlessly work with many certified Microsoft active pen, and is ideal for handheld to AIO sized products.
For ultra-sized products, the EXC86H series are system-in-package (SIP) solution that work with high driven voltage slave chip EX60128. Special feature includes mixed input that simultaneously support multiple fingers and up to 4 EETI pens input.