GSR Launches a standard range of PCAP Touch sensors and controllers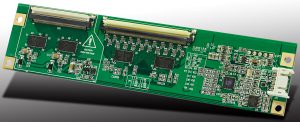 Now available from GSR Technology is a standard range of Industrial PCAP Touch Sensors with integrated cover lens and eGalax PCAP Touch controllers. These touch panels that range from 10.1" and 32" are pre-configured with the EETI eGalaxworks firmware package to get your application up and running with no complications. All the major operating systems from Windows, Linux, Mac, Android and QNX are supported, plus additional support on custom platforms     These latest PCT solutions offer optional USB and I2C interfaces and COF (Chip on Flex) COB (Chip on Board solutions. The coverglass offering is based on a silk screen black border design with 1.8mm soda lime glass. Special requirements on coverglass thickness, coatings, colour print and material are all available as options, please request further information from the GSR design team.
The GSR range of PCAP touch solutions complement the advanced functional eGalax controllers EXC3242, EXC3256, EXC3442, EXC3188, EXC3146 and EXC3132 designed for industrial, medical, marine and gaming applications.  Glove input, saline water resistance, palm rejection, through air gap touch, fluids, thick glass upto 10mm are all achievable through firmware support and the eGalaxManager Auto Tuner.  Noise frequency detection and measuring tools are also readily available, and a cross platform remote tuning service for those distant customers that require real time support.