New 5.7″ LCDs from GSR Technology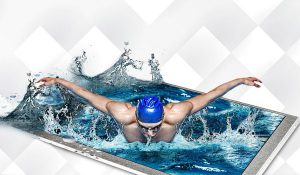 GSR Technology Europe is pleased to announce six new LCDs from NLT's next generation 5.7-inch product display range. Key features include built-in LED driver board, wide operating temperature range (-30 to +80 Celsius), high contrast ratio of 900:1 and a choice of 550 cd/m2 and 800 cd/m2 brightness. The displays offer excellent performance in various environments where industrial equipment is used. The new designs are interchangeable as they have the same module outline and the same mounting hole positions. Five of the new displays have CMOS interface while one of the VGA offerings has LVDS interface.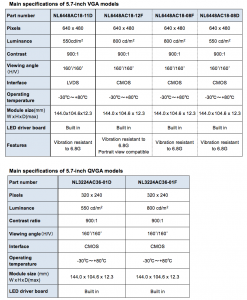 5.7-inch VGA models The four 5.7-inch VGA modules are resistant to vibration up to 6.8G making them ideal for applications prone to strong shock and vibration such as the construction and marine equipment. LVDS and CMOS interface models, the standard and the high brightness models, and the portrait view compatible model are available. 5.7-inch QVGA models NLT's new offerings include two QVGA models: a standard model and a high brightness model which achieves excellent visibility even in bright ambient light. Both displays feature a high contrast ratio and wide operating temperature range. GSR Technology can also offer driver board kits and embedded solutions for all NLT LCDs. Please request further information from the GSR sales team.